Attendance
At Chesterfield Primary School, we take attendance and punctuality very seriously as we want to give all our children the best possible start in life. There is a direct link between the amount of time children spend in school and the progress they make.
All children's attendance is closely monitored by the school and we place great importance on actively working with parents and carers to promote this essential aspect of school life. During term time and as long as they are fit and healthy enough to do so, we expect all children to be in school every day.
We strive to achieve at least 96% attendance across all of our classes at Chesterfield. If your child's level of absence concerns us or attendance falls below 90%, you will be contacted by the school to look at what can be done to improve attendance.
Parents must inform the school of any absence giving the reason why.
Good attendance in school is fundamental to a successful school experience. We believe that one of the most important factors in promoting attendance is the development of positive attitudes towards school and learning. We have a dedicated School Attendance Officer, Lorraine- who you can talk to at any time by contacting the school office. We actively encourage attendance and punctuality for all our pupils and families using a variety of individual and class awards and incentives.
We report class attendance figures in our weekly newsletter.
Parents have a legal duty to ensure that their child attends school regularly and arrives on time. Full attendance is essential to the all-round development of a child. At primary school age, we rely on parents and carers to support and encourage full attendance.
Frequent absence can add up to a considerable amount of lost learning and can seriously disadvantage your child.
Please book family holidays during school holidays-not during school time.
If possible, do not book any medical, dental, optician checks during school times.
Please download and read 'attendance information for parents', or ask to speak to Lorraine or Androulla for any further information. Thank you for your support.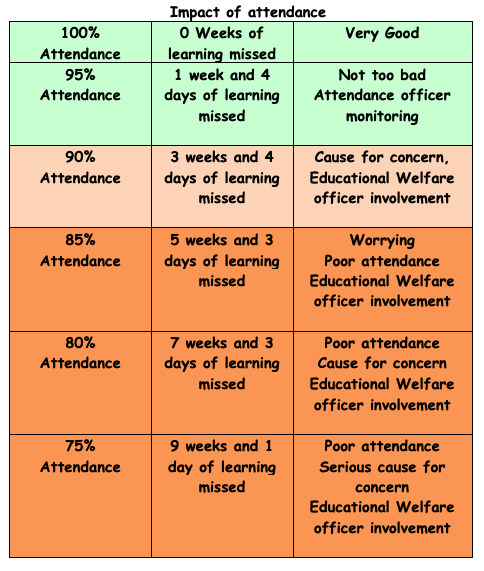 Impact of punctuality
We would like children to adopt good habits of attending and punctually. It is disruptive to your child and to the rest of the class when children arrive late. Latecomers may miss important information and teaching and children are often upset about going into classes and assemblies when they are late as they feel embarrassed.
| | |
| --- | --- |
| 5 minutes late every day | 3 days of learning lost |
| 10 minutes late every day | 6 days of learning lost |
| 15 minutes late every day | 10 days of learning lost |
| 30 minutes late every day | 19 days of learning lost |
However, we would rather your child comes late than not at all!
Introducing our Attendance Ambassadors
At Chesterfield we have Attendance Ambassadors for all classes in key stage two, years three, four, five and six.
Attendance Ambassadors are chosen by their class peers and teachers and take part in monthly meetings with our Deputy Headteacher Androulla. Representatives will serve for one year.
Their aim is to confidently discuss school attendance with their peers, announce weekly class attendance in assemblies and plan and take part in incentives and events to promote better whole school attendance and contribute to a positive school ethos. In addition to this, they will be invited to give out certificates for end of term 100% and 99% children.
During the monthly meetings, Attendance ambassadors are encouraged to share their opinions and ideas and to feedback their classmate's views.